What to do
before

,

during

and

after

earthquakes.
Your Guide to Earthquake Preparation, Response, and Recovery.
Weather extremes, fault planes, epicenters. We've all heard about it on the six o'clock news. But how prepared are we for an earthquake? Let's look into the basics everyone should know, the supplies we'll want on hand, and important preparations to take before a quake.
But first, let's recap some of those lessons we might've learned in an earth science class.
Earthquakes are happening

all the time!
Explore magnitude 2.5+ Earthquakes in the past week
What exactly is an earthquake? Simply put, an earthquake occurs when two blocks of Earth slip past each other. Where that slip occurs is called the fault plane and where it originates is called the epicenter. There might be smaller, less discernible foreshocks at a quake's epicenter before you feel the mainshock, which is the most impactful part of the sequence. Then smaller aftershocks will follow. While they may be less intense they have been known to recur weeks, even years, after the initial jolt and can still cause significant harm.
Overall earthquakes vary in strength, which can range from smaller more subtle shifts to events that are able to cause significant destruction. A quake's strength will depend largely on the degree of slip and the fault's size—along with numerous other variables. How it feels to you is contingent on all of those factors and your proximity to its epicenter.
Seismograph: instrument that makes a record of seismic waves caused by an earthquake, explosion, or other Earth-shaking phenomenon.
A seismograph is used to measure the motion of the Earth during an earthquake and to digitally record both the P wave, or the stretching and compression of the Earth's crustal material, and the S wave, its perpendicular movement. Using this data, scientists can report the precise magnitude of an event based on its number on the Richter scale. This ranges between 1.0, a rarely felt microearthquake, and 9.0 or higher, which might cause near full destruction.
Since earthquakes can cause such damage, it's important
to understand your risk.
If you're located in a high-risk area or if you've endured a sizable quake in your lifetime, you get the value in why preparing is so important. The most important thing is to get through it with little to no harm. That's why FEMA recommends everyone knows and rehearse a drill called Drop, Cover, and Hold On.
Here's how it goes:
Step One

. Drop to your hands and knees when you begin to feel shaking or as soon as you receive an alert.
Step Two

. Cover your head with your arms, cover your neck with your hands, and bend over to protect your vital organs.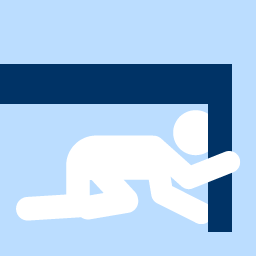 Step Three

. Seek shelter or coverage, such as a table you can crouch beneath. Then grip the leg of that table or a sturdy object nearby.
Where to begin? Start with the big 3!
Simple but important steps you can do right now :
Visit the Earthquake Country Alliance to find out how prevalent earthquakes are in your area. They are a good resource to prepare and protect your person and property.
Receive updates and real-time alerts:
Make a plan before the shake. Review how to turn off utilities like gas and electricity, create or update an Emergency Contact Sheet, then share it with family and friends.
Another important step is to identify potential shelters beforehand and have their address available quickly. To locate your potential shelter use our Emergency Shelter Locator anytime.
That in mind, think too about where you could go if you were evacuated. What route could you take? How will alerts arrive? Which contacts might you need right away, such as doctors or veterinarians? Then pull it all together into a basic communication plan. Build and update your own Emergency Contact Sheet anytime here using the AidTeam toolkit.
If you have children, here is a playful way of creating your own child-friendly alert. Simply write "Earthquake Detection Kit" across the top of a sheet of paper, then glue on two large wiggly eyes. When you teach children to Drop, Cover, and Hold On, let them know that this is what to do if they see the eyes wiggle.
Insuring Your Stuff:
If you're a homeowner in a high-risk region, consider adding earthquake protection to your homeowner's insurance coverage. A few considerations for specialized earthquake coverage include:
Earthquake Insurance References (in alphabetical order):
After you've taken the above preparations, continue to review and update your supplies and records periodically. Set an Annual Reminder! ⏱ – like before the holidays – for checking expirations, replacing batteries, and testing fire extinguishers and smoke alarms.
Regardless of your due diligence, little can prepare you for the jolt of waking at dawn to an unnerving sense that the ground is shaking beneath you. But with a little practice, Drop, Cover, and Hold On should become second nature. And that's always your first step.
If you are in bed
Turn face down and cover your neck with your pillow to protect yourself from any falling objects. Stay protected until the shaking stops.
In a vehicle
Pull over to the side of the road and move away from buildings. Secure your vehicle's emergency brake and check for any potential hazards. Stay clear of and report failing utilities and electrical lines.
Inside a building
Stay inside! Get away from windows and rooms with tools and kitchens. Move under something strong like a table or desk, and then hang on. Cover your eyes from falling objects. Don't use elevators, rush down stairs or try and leave the building.
Outside a building
Get into the clear, move away from structures and buildings. Check for any potential hazards like fires, including electrical from falling power lines. Once you've settled into a safe location, be on the lookout for others with injuries, try to get them out of harm's way.
A sense of relief might settle in once the worst part of the quake is over. But this might be premature.
Once you've settled into a safe location keep aware of new hazards such as fires, including electrical from falling power lines. Careful of chemical spills, damaged foundations and broken glass. Be on the lookout for others with injuries, using your or their first aid kit to provide assistance. If there's anyone that's severely injured, try to get them out of harm's way. Then help to guide emergency workers as they arrive on the scene—paying extra attention to children who might not feel safe.
Remember, that was just the mainshock. Next will come subtler yet still damaging aftershocks that could shift already compromised objects like dishes that are balancing on a ledge, along with critical infrastructure.
You can protect yourself by moving away from already damaged or compromised buildings. Cover your mouth, nose, and eyes from dust and stay alert for new potential hazards. If it's safe turn off utilities like power, gas and water to reduce further damage.
When the rumbling begins to stop, check yourself for iInjuries first, then help others. As a safety precaution, local utilities may be shut down and access to property or neighborhoods might be limited. Expect communication to be interrupted or lost, help reduce the load on the network and save your battery by sending text messages rather than calling when possible. Buildings might also need to be checked before you can return home.
The aftermath of an earthquake can be taxing, but stay clear and persevere. Reflect on your experiences and learn from your mistakes. And above all, take care of your mental health along with your family's, your friends', and neighbors'. Call or text 1-800-985-5990 to connect with a trained crisis counselor. Life can be unpredictable. But with a little due diligence, you'll have the knowledge and plans you need to remain calm and play it safe in an emergency.
ADDITIONAL RESOURCES AND
USER CONTRIBUTED CONTENT